INTRODUCTION

In 2015 the Executive Committee (ExCo) of the Ocean Energy Systems (OES) unanimously agreed to request the IEA to extend its mandate for a 4th 5-year term. Its present term will end on 28 February 2017. As part of the request, in late 2015, the OES commissioned an external expert to assist the ExCo in the preparation of a 4th Term Strategic Plan (2017-2021), which should be submitted in 2016 to the IEA Committee on Energy Research and Technology (CERT).
The OES 2015 membership remained steady at 23 (with Australia inactive during 2015). This membership, from Africa, Asia, the Americas, Europe and Oceania, provides a broad international base of experience and knowledge. Information sharing and collaboration on a wide range of research and development projects is therefore possible, aiding in our efforts to overcome technical and other challenges to advance the sustainable development of ocean energy worldwide and so contribute to the mitigation of climate change.
National governments appoint a Contracting Party to represent the country in the Executive Committee and there is a diversified representation of interests: governmental departments, utilities, universities and research organizations, energy agencies and industry associations. By information sharing and collaborative activities, participants gain an international perspective on ocean energy issues, opportunities and present challenges.
This Executive Summary provides an introduction to, and brief summary of, the 2015 OES Annual Report. It synthesizes progress with the OES collaborative activities and outlines the political initiatives and demonstration projects worldwide presented by each OES member country.


INTERVIEWS TO ORGANISATIONS FUNDING OCEAN ENERGY
As in previous years this Annual Report presents a summary from each OES member on their national programme activities. Further, a contribution by acknowledged experts from funding organisations is included. Representatives from five organisations funding ocean energy projects (US DOE, Wave Energy Scotland, Nagasaki Marine Industry Cluster Promotion Association, the European Commission and the Inter-American Development Bank) were invited to respond to four questions about funding approaches to ocean energy projects.


OVERVIEW OF OES COLLABORATIVE ACTIVITIES
The OES held two ExCo Meetings in 2015: The 28th and 29th meetings were convened in Kassel, Germany (12 – 13 May 2015), and Cancun, Mexico (11 – 12 November 2015).
Membership of the OES involves a commitment to national participation in certain collaborative research activities. Some of these research projects generally have duration of a number of years and are led by an 'Operating Agent' from a member country, responsible for coordinating each project and reporting on progress to the ExCo. Under the OES nomenclature these research projects are defined as 'Annexes' to the work programme and are initiated whenever three contracting parties support a proposal and sufficient funding is raised.
The ExCo has also introduced some shorter term projects (approximately 1 year duration) funded by the Common Fund and based on a tender procedure. They can be conducted by a group of members and may include participation of external experts invited by the Delegates. In 2015, OES participants worked on the folllowing specific research topics:
TASK 4 Assessment of Environmental Effects and Monitoring Efforts for Ocean Wave, Tidal and Current Energy Systems (Annex IV) - providing access to knowledge and information related to research, monitoring, and evaluation of environmental effects of offshore renewable energy. Tethys, the online knowledge management system which supports Annex IV material, continued to expand and to increase user interactions.
TASK 5 The Exchange and Assessment of Ocean Energy Device Project Information and Experience (Annex V) - promoting the sharing, interchange, evaluation, and compilation of information on OES projects from participating member countries. To this end, Annex V has been sponsoring workshops, bringing international experts together to exchange data that can be used to develop an assessment of the fundamental knowledge of ocean energy.
TASK 6 Worldwide Web GIS Database for Ocean Energy – interactive web based GIS mapping application launched in 2014 with detailed global information related to ocean energy. Information has been continuously updated on ocean energy facilities, resources, relevant infrastructure, in conjunction with the respective location on a global map.
TASK 7 Cost of Energy Assessment for Wave, Tidal and OTEC – This project was set out to deliver the assessment of a credible LCOE based on international projects, and the likely future LCOE reduction trajectories of ocean energy projects at a global scale. The final report of this study was published in 2015 providing an authoritative view on what cost reductions are feasible at a global level, taking into account the experience from other technologies, and further examining opportunities for cost reduction.
TASK 8 Consenting Processes for Ocean Energy on OES member countries – with inputs from all OES member countries providing a coherent overview of several aspects of the consenting processes, addressing: Marine Spatial Planning policies and site selection for ocean energy development, regulatory issues, environmental impact assessment requirements, consultation and challenges to the consenting process.
TASK 9 International Ocean Energy Technology Roadmap - in line with the IEA own technology roadmapping work, this project was initiated in 2015 and will be concluded in 2016. The overall objective of the ocean energy technology roadmap is to achieve LCOE targets within the ocean energy sector. This requires a special focus on two key areas: Reliability Improvement and Performance Improvement.

Further, a number of new proposals for R&D projects on topics of common interest to participants have been discussed by the ExCo, and a few proposals are under development to be discussed in 2016 and eventually approved during the year, including:
Investigation and Evaluation of OTEC Resource (submitted by Japan)

Ocean Renewable Energy for Island Electrification (submitted by Singapore)

Best Practice for International Open Water Test Centres (submitted by UK)

Wave Energy Modelling Verification and Validation (submitted by Denmark)

Tidal Current Energy Modelling Verification and Validation (submitted by Singapore)

Performance of Mooring Systems for Ocean Energy Systems (submitted by Denmark)

International Assessment of Technology Performance Level (TPL) and Technology Readiness Level (TRL), (submitted by USA & Denmark)
The OES has been continuously interacting with the IEA and with other international organizations and networks, including: INORE, OECD, IRENA, IEC-TC 114, European Energy Research Alliance (EERA) Ocean Energy Joint Programme, OCEANERA-NET and Ocean Energy Forum.
KEY ACHIEVEMENTS BY THE OES IN 2015

Annex IV continued to collect information on new wave and tidal projects and ongoing research studies. This

information is accessed from Tethys, which currently includes 80 project sites and 57 research studies.



Annex IV partnered with National Environmental Research Council to host a workshop at Ocean Business in Southampton, UK, on 16 April 2015 and partnered with the European Wave and Tidal Energy Conference (EWTEC), in September 2015, in Nantes, France, to enhance participation in the environmental track and increase the variety of papers presented. During the European Wave and Tidal Energy Conference, Annex IV hosted a workshop on 8 September 2015 to brief the international marine renewable energy community on the Annex IV State of the

Science Report.



Three webinars were held under Annex IV in 2015, each bringing together between 55 and 100 people online to

listen to recent research results and plans.



A draft of the State of the Science of environmental impacts of marine renewable energy report was prepared

during 2015 and it is anticipated that that final report will be released in April 2016.



The OES continues to develop a suite of information dissemination tools assisting the OES in becoming a leading

authority on ocean energy; a Linkedin group "Ocean Energy Systems" was launched in 2015.



A new project was initiated in 2015, "International Ocean Energy Technology Roadmap", including in a first stage the

update of the OES International Vision for Ocean Energy.



In February 2015, a workshop entitled "Designing for Reliability of Wave and Current Marine Energy Converters" was organized in Lisbon, Portugal, hosted by the Portuguese non-profit association WavEC. A fourth workshop on

energy policies is being planned for May 2016 in Sweden.



OES participated in the IRENA workshop "Island Energy Transitions: Pathways for Accelerated Uptake of Renewables", 22-24 June 2015, Martinique; following this event, the OES is considering to develop a new project

on the topic "Ocean Renewable Energy for Island Electrification".



The Report "International Levelised Cost of Energy (LCOE) for Ocean Energy Technologies", an analysis of the development pathway and Levelised Cost Of Energy trajectories of wave, tidal and OTEC technologies, was published in May

2015.



OES contributed to the OECD project on the Future of the Ocean Economy with the preparation of the report

"Ocean Energy Discussion Paper" examining the prospects and potential of the ocean energy sector.
OCEAN ENERGY POLICY
There is policy support for ocean energy in several forms in the OES member countries (see Table 1): market incentives, roadmapping initiatives and national maritime or energy strategies including ocean energy; legislation for improving licensing arrangements for ocean energy projects and to promote national planning; governmental funding from basic research to sea testing infrastructures.
Several political initiatives were reported by the member countries during 2015:

Korea established a strategic plan for 2015-2025, in which the main objective for ocean energy is to set up a relevant R&D support programme.
In China, the Government has been developing the "Renewable Energy Development Plan (2016-2020)", including the "Ocean Energy Development Strategy".
The "Partnership for Wave Power", created by Danish developers, published in 2015 a set of roadmaps for development of wave energy with support from the Danish Energy Agency and a new law for the use of marine space has circulated for comments at the end of 2015.
In Sweden, the Government completed a national maritime strategy, which has identified areas where actions are needed in order to promote a sustainable development in the Swedish maritime sector, including ocean energy. In the beginning of 2015, the Swedish Energy Agency started a national ocean energy programme that will run for four years with a total budget of around €5,7 million. The aim is to strengthen the research and development and increase the cooperation between academia and industry.
In Canada, at the federal level, the Department of Natural Resources Canada continues to take a lead role towards the development of a policy framework for administering marine renewable energy activities in the federal offshore.
The Government of Nova Scotia approved new legislation for a licensing and permitting system that assures that marine renewable energy projects are developed in a manner that respects the environment and the interests of local communities. Further, the new Electricity Plan for Nova Scotia, released in November 2015, replaced guaranteed Feed-in Tariffs (FITs) with a competitive process for renewable energy technologies.
In UK, on a national level, DECCs Energy Innovation Policy team has been working on an updated Technology Innovation Needs Assessment (TINA) for wave and tidal energy due to be published in 2016. This will enable the government to make effective decisions regarding how the wave and tidal stream sectors should be supported in future. Further, the Scottish Government remains committed to the continued development of a successful marine renewables energy industry in Scotland and to date, the Renewable Energy Investment Fund (REIF) has invested £37.1 million in marine energy projects with further investments planned. Wave Energy Scotland (WES) committed in 2015 over £10 million through a series of strategically targeted innovation projects and research activities.
In USA, the Water Power Program supported a strong research, development and demonstration (RD&D) project portfolio. The budget allocated for the US Department of Energy Water Power Program in 2015 was the highest on the Program's history. Several key pieces of US federal legislation that would help to advance the marine energy industry are currently under consideration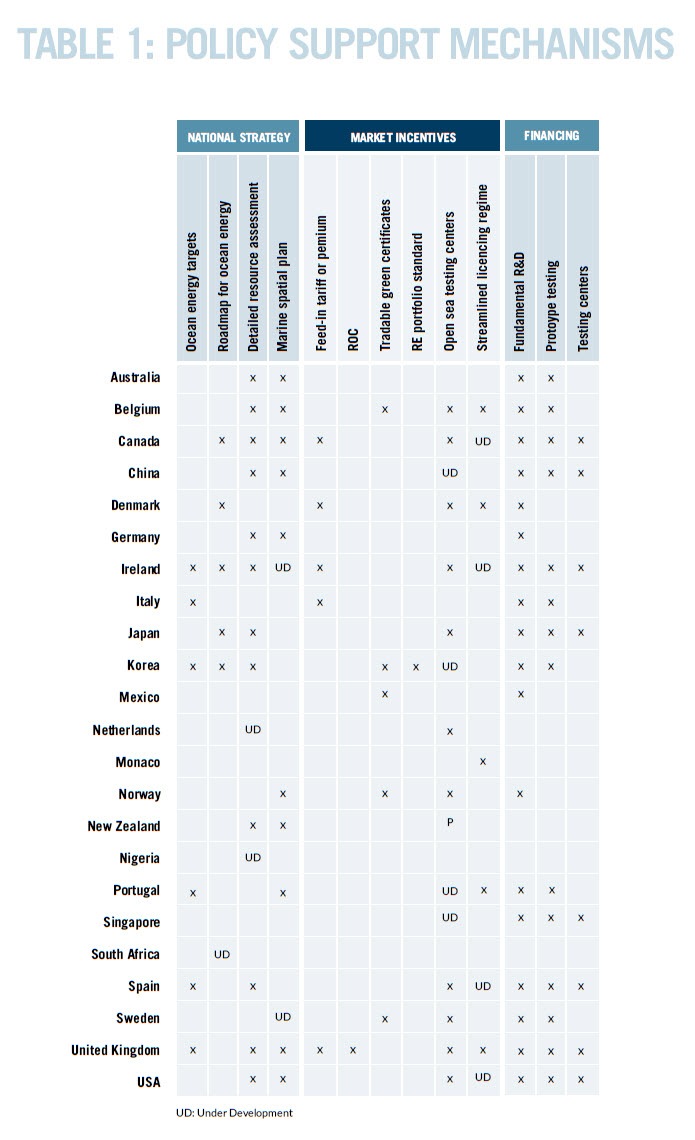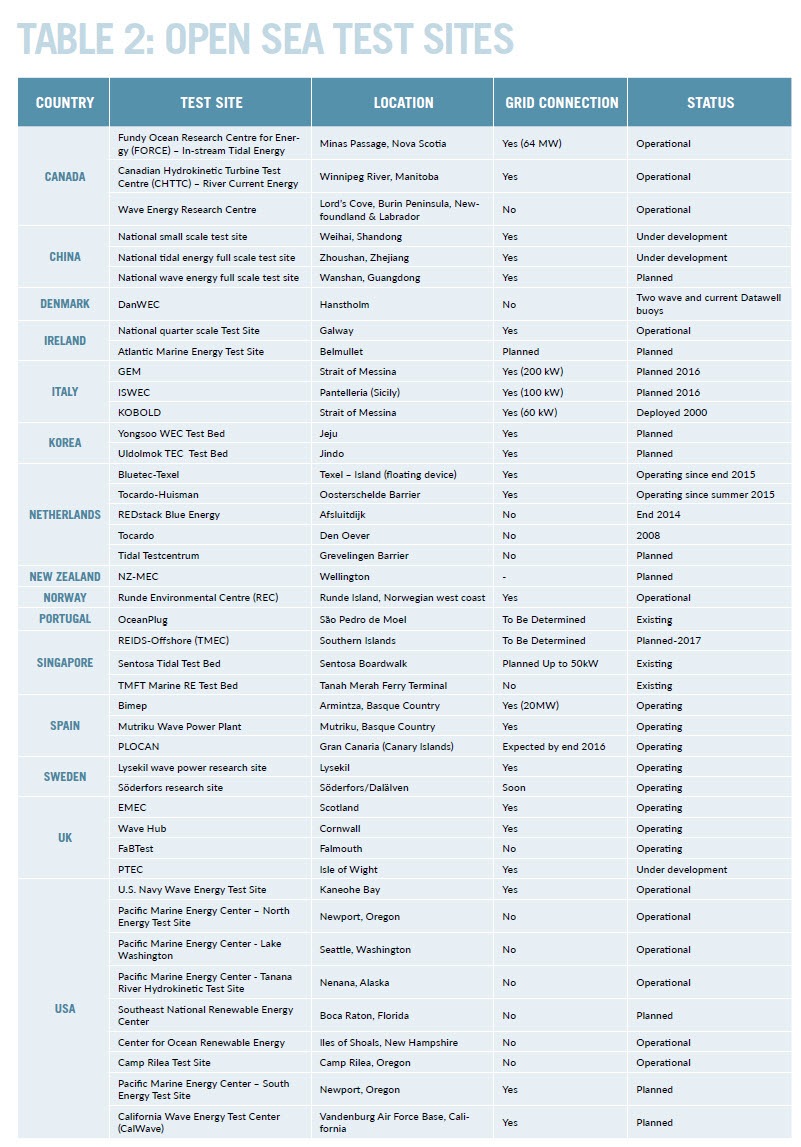 PROGRESS ON OPEN SEA TESTING
Several countries are working to advance research in open sea test sites by building the capability, infrastructure, and strategic partnerships to assist the private sector on the path to commercialization. The development of sea testing facilities for different stages of the development process is seen as a typically valuable measure at governmental level. Such infrastructure encourages ocean energy development by enabling practical experience of installation, operation, maintenance and decommissioning activities for full scale prototypes and farms, as well as on services and streamlining procedures. of installation, operation, maintenance and decommissioning activities for fullscale prototypes and farms, as well as on services and streamlining procedures.
Work is under way on several marine energy infrastructures. Several technologies are progressing into the open sea and others are very close to be deployed.
BELGIUM
A sea test facility was implemented at approximately 1 km from the Harbour of Ostend, not yet grid connected. Over the last year, a ¼ scale prototype called "Laminaria" has been tested at the sea testing site and a new deployment at EMEC is now planned for 2017.
CANADA
The Fundy Ocean Research Centre for Energy (FORCE) is Canada's research centre for tidal current energy, located in the Bay of Fundy. In addition to the 17.5 MW already approved in 2014 (4 berths), Nova Scotia announced an agreement with DP Energy to install a 4.5 MW tidal current project at a 5th berth. Feasibility and impact studies to expand the onshore electrical infrastructure to accommodate up to 20 MW started in 2015. Canada also established a Canadian Hydrokinetic Turbine Test Centre (CHTTC) in Manitoba, in the Winnipeg River, to test river current technologies; in 2015, 4 turbines were tested there. The 20 MW Annapolis Royal tidal barrage power plant commissioned in 1984 continues to operate today.
CHINA
In China, three test sites are being developed: a small scale test site in Weihai Shandong province, a tidal energy full scale test site in Zhoushan Zhejiang, initiated by China Three Gorges Corporation, and a wave energy full scale test site in Wanshan Guangdong. The upgrade of Jiangxia Tidal Power Plant from 3.9 MW to 4.1 MW was completed in August 2015. Guangzhou Institute of Energy Conversion (GIEC) with China Shipping Industry Co. has deployed their 100 kW Sharp Eagle Wanshan converter in November 2015. There are several research projects on wave and tidal energy progressing to sea trials. Further the concept of hybrid power stations (combining ocean, wind and solar energy) continues to be developed.

DENMARK
In Denmark, the Danish test site for Wave Energy Conversion (DanWEC) includes two sites, a benign site in Nissum Bredning and an exposed site at Hanstholm. Two wave rider buoys have been launched at DanWEC and a seabed survey has been carried out. Wave Piston
was deployed at Hanstholm during the summer of 2015.
GERMANY
The NEMOS GmbH prototype has been tested at the Nissum Bredning test site in Denmark since August 2015, feeding energy into the grid. Another wave energy developer, SINN Power GmbH, announced, in late 2015, that their first wave power module was successfully installed on the Island of Crete, Greece. In addition to these projects, major German utilities are active in the ocean energy sector with test installations and prototypes around Europe.
KOREA
In Korea feasibility studies for test beds for wave and tidal energy have been carried out and it is expected that in 2016 the construction of a wave energy test bed of 5MW capacity with 5 berths will begin. In 2015 a new wave energy pilot plant - INWave - developed by INGINE Inc. was installed in Jeju costal water expected to be connected to local grid by mid-2016. The design of an active-controlled tidal energy converter developed by KIOST was completed in 2015 and will soon be tested at sea. Further much activity was going on at the 200 kW OTEC plant built in December 2014.
NORWAY
Runde Environmental Centre (REC), located on Runde Island on the Norwegian west coast, can accommodate wave energy devices for testing at several sites. One of the sites is now equipped with a sea cable to grid connection to shore. The Norwegian developer Havkraft finalized their
prototype testing of the Havkraft Wave Energy Converter (H-WEC) in real sea environment at Stad in Sogn og Fjordane, Norway, in 2015, with over 4500 running hours and is now implementing the concept into offshore aquaculture and other applications. A number of wave and tidal projects have made progress, preparing to be tested at sea in the next years.
PORTUGAL
In Portugal, Enondas, a subsidiary of the Portuguese Grid Transmission System Operator (REN), holds a 45- year lease for 320 km2 of seabed, since 2010, for the development of wave energy projects. However, there has been no progress regarding the development of infrastructures. Pico Plant, owned by WavEC, in Azores, continued operational in 2015 delivering electricity to the grid; after a successful series of tests, WaveRoller demonstration project in Peniche, is now developing a new unit, first of kind of the array.
SINGAPORE
There are recent initiatives led by ERI@N to develop test centres in Singapore for wave and tidal current projects. The Sentosa Tidal Test Site is one of these test sites to provide opportunities to develop local technologies to harness the energy available in the narrow channel between Singapore and Sentosa. The development of solutions suited for small islands, isolated villages, and emergency power supplies has been also promoted in Singapore.
SPAIN
Spain offers three test sites for wave energy testing: the Biscay Marine Energy Platform (bimep), an open sea test facility promoted by EVE (the Basque Energy Agency) and IDAE (Institute for Energy Diversification and Saving) in the Basque Country, which was officially inaugurated in July 2015. OCEANTEC, a Spanish company with two shareholders (Iberdrola and TECNALIA) was awarded a €2.5 million contract by EVE in November 2015 to test a wave energy prototype at Bimep. After the start-up of bimep, EVE is giving Mutriku's wave power plant a new use as test site, use that is compatible with the main activity of the plant that is to generate electricity from wave energy. This installation has achieved a cumulative production of over 1GWh after 4 years of continuous operation. The third one, PLOCAN on Canary Islands includes a marine area of 23 km2 from the coast to 600 m water depth. The submarine electrical infrastructure is still in the design stage expected to be ready in 2017. During 2015, two wave energy devices were installed and tested at Plocan site, Canary Islands: the W1 prototype developed by the Spanish company Wedge Global and PENGUIN II prototype developed by the Finish company WELLO installed in September 2015.
SWEDEN
In Sweden, Lysekil wave power research site was grid connected during 2015. Another test site in Sweden is the Söderfors marine currents research site. Both sites have devices in the water and are operated by Uppsala University. During 2015, the Sotenäs project situated at the Swedish west coast progressed: 36 generators were in place and the subsea generator switchgear was deployed and connected to the Swedish national grid; the park is expected to start producing soon. Several
other Swedish developers have made progress during the year and are preparing for demonstration in the ocean, primarily outside Sweden.
UNITED KINGDOM
UK has world-class facilities - EMEC, WaveHub, FaBTest, Narec and the testing tanks at University of Edinburgh and Plymouth University - to support the continuing development of the wave and tidal stream sectors. Important achievements in UK are the beginning of the construction of the world's first multi-turbine tidal stream array project MeyGen Phase 1A; tidal stream developer Atlantis' acquisition of Marine Current Turbines and the successful deployment of Tidal Energy Ltd's DeltaStream device in Ramsey Sound, Wales. First pre-commercial wave array projects are progressing at the Wavehub: the 10 – 15MW CETO project developed by Carnegie Wave Energy Limited, the 10 MW Fortum project and the 10 MW Seabased wave energy
technology.
THE UNITED STATES
Testing infrastructure and instrumentation is one major focus area for the Water Power Program. Several test sites for wave, tidal and river currents and OTEC are being developed with support from DOE. In 2015, the Azura wave energy prototype from Northwest Energy Innovations was installed at the Navy's WETS in Kaneohe Bay, Hawaii, and the Ocean Renewable Power Company (ORPC) deployed its RivGen® turbine in the Kvichak River, in Alaska. Further, a number of planned deployments in US have been announced by developers, including the Ocean Energy (OE) USA, Resolute Marine Energy, Fred Olsen and Columbia Power Technologies.