OPERATIONAL PROJECTS

New Energy Corp. installed their 5 kW EnviroGen vertical axis turbine in Ringmo, Dolpa, Nepal, in the spring of 2014. The site is very remote – it is a 3-day walk to the nearest road, and all components needed to be carried in by hand. The system operated for four solid months at capacity in 2014. Ringmo closes down each fall, but it re-opened again in the spring of 2015, at which time the unit was put back into operation.
In the fall of 2015, New Energy Corp. installed two of their 5 kW EnviroGen turbines in Myanmar in order to provide year- round power for a school. The two floating demonstration systems were installed in a river adjacent to the school. The turbines have been operating since.
New Energy Corp. installed their 5 kW EnCurrent vertical axis turbine at the CHTTC in September 2014 primarily to test a patented fully-submersible bearing. The test was a resounding success, and this bearing design has already been incorporated into the commercial product design. Testing continued in 2015 on various aspects of the mechanical design as well as control system enhancements for both standalone and grid connected applications.
New Energy Corp. began the civil works construction on their Canoe Pass, British Columbia project, in June 2014. Canoe Pass is a 500 kW tidal demonstration project on Vancouver Island. All permitting and regulatory approvals are in place for the project. Part of the causeway between two islands will be removed to install two 250 kW turbines. The turbine installation is scheduled for late 2016.

Mavi Innovations first tested their Mi1-20 kW floating ducted crossflow turbine at the CHTTC in November 2014 over the course of two weeks in severe winter conditions. The team learned first-hand about the challenges of designing and operating turbines in a Canadian winter environment (-30 ºC air temperatures).

The Mi1 was redeployed at the CHTTC in July 2015 and underwent a series of performance tests over the course of 4 months. In addition to commissioning the unit, Mavi worked with CHTTC staff and Dynamic Systems Analysis to measure mooring loads and turbine performance in order to validate IEC-TC114 standards currently under development.


Floating ducted crossflow turbine (Mavi Innovations)
Instream Energy Systems has received approval by the US Bureau of Reclamation to extend its lease at the Roza Canal site in Washington State. Instream has used this site since 2013 as an infield pilot site to test system updates and upgrades. Instream plans on adding more turbines as well as connecting to the grid. In addition, Instream has received the European Union Eureka Label and Canadian Government funding from the National Research Council for its Marine Floating Platform Design Project in collaboration with UK-based IT Power. Instream continues to work with BAE systems and is presently developing its next generation turbine.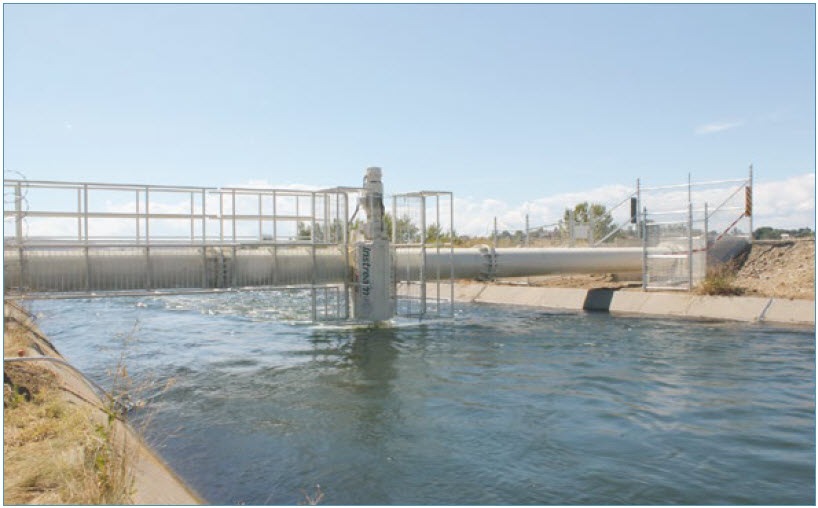 Instream Energy Systems
Idénergie installed a river turbine in Quebec during 2015 to power a welcome centre for a fish and hunting ground. The turbine was used in high-velocity flows of over 3.5 m/s with success. A demonstration was also performed in a river at Jasper National Park, in the province of Alberta, in collaboration with Parks Canada. Towards the end of the year, a turbine was installed to power an off-grid residence during the winter. Recent upgrades to the river turbine bring its nameplate capacity to 1 kW and permit the inter-connection of multiple turbines together.


Mermaid Power, a wave energy point absorber, has completed tank tests to prove the viability of their Power Take- Off (PTO) mechanism, as well as their tidal compensator system. In December 2015, they deployed their Neptune 3 device first to the maritime museum in Vancouver harbour and secondly to a nearshore testing location off Keats Island in British Columbia. The Neptune 3 device is 16,000 kg with a 3,500 kg motive float. The device will undergo grid power connectivity testing under the BC Hydro net-metering programme, where it will run a series of tests to determine the actual empirical wave energy force acting to move the motive float vertically in various sized waves, and show real time video surveillance of underwater activities, PTO action, electric meter action, and overall situational activities.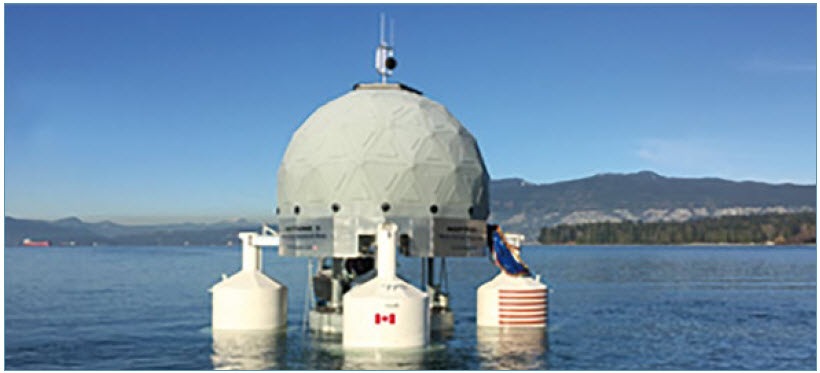 Neptune 3 device (Mermaid)
Accumulated Ocean Energy Inc., a wave energy point absorber buoy, tested their 1/12 scale system in the Sooke Basin, on the south end of Vancouver Island in southwestern British Columbia, in 2015.

Accumulated Ocean Energy 1-12 scale device testing in Sooke Basin
- Vancouver Island
Grey Island Energy, with their "SeaWEED" wave energy surface attenuator, conducted testing at the Canadian National Research Council's Ocean Engineering Basin. The 1/16 scale SeaWEED prototype was able to efficiently capture and convert wave energy, and the physical model matched the numerical model, which informed how much power the device could produce at a full scale. The results exceeded expectations.


1/16 scale SeaWEED device (Grey Island Energy)
The 20 MW Annapolis Royal tidal barrage power plant was commissioned in 1984 and continues to operate today. It is owned and operated by Nova Scotia Power (a subsidiary of the utility company EMERA). Annapolis Royal is the only commercial tidal power plant in North America.
PLANNED DEPLOYMENTS
The province of Nova Scotia anticipates deployment of 22 MW of large scale in-stream tidal energy to be deployed in the Bay of Fundy over the coming 3-5 years. The first project scheduled for deployment is Cape Sharp Tidal Venture, which is expected to deploy its first turbines in the spring of 2016.
Working with a consortium of industry and academic partners, Fundy Tidal has continued to advance their COMFIT small scale tidal energy projects in Grand Passage, Petit Passage, and Digby Gut, Nova Scotia. Fundy Tidal is progressing through the Nova Scotia Power interconnection process for their Digby Gut project and is working towards a financial close for all projects.
New Energy Corp. has received preliminary approval to supply a 25 kW EnviroGen Power Generation System to a First Nation community in Manitoba. Approvals are in place, and fabrication is scheduled to begin in early 2016. Installation of the system is scheduled for the summer of 2016.
In 2016, Mavi plans to integrate the Mi1 turbine along with battery storage and possibly solar into an existing diesel grid to power a remote lodge in British Columbia. The objective of this project is to assess the feasibility of using tidal power to offset the use of diesel fuel by offgrid coastal communities.
Water Wall Turbine plans on testing their 500 kW, full size, in-stream tidal demonstration turbine in the Fraser River, Vancouver, in January 2016, before they deploy the device at the Dent Island test site. The Dent Island project comprises a microgrid, and the testing of the microgrid components will take place in March 2016. The design and construction of the microgrid components is underway.
Instream Energy Systems has secured a location in the northwest USA for a marine trial in early 2017. The trial will integrate a number of turbines on a single floating platform with an output of approximately 100 kW. In addition, Instream has been selected by the University of New Hampshire to provide a single 25 kW turbine for "the Living Bridge Project". This project will harness energy from the tides flowing under the bridge and is scheduled for delivery in late 2016.
Idénergie will install 6 river turbines and 72 solar panels to power an outfitter establishment in north eastern Canada, in 2016. An additional deployment of 10 turbines is planned for the summer at Banff and Jasper National Parks in the Canadian Rockies, in the province of Alberta. The turbines will allow Parks Canada to power various off-grid campgrounds and facilities.
Mermaid Power's Neptune 4, a wave energy point absorber, is expected to be deployed on the west coast of Vancouver Island in late 2016 to test gale force storm survivability of their point absorber system – they are looking for a deployment site in the Sooke-Shirley-Jordan River-Port Renfrew area.
In 2014, Jupiter Hydro successfully demonstrated both their 36" diameter Delta unit, and their 42" diameter 3EC42 unit, helical screws turbines, at the CHTTC. Jupiter's two prototypes have cleared the path to commercialization. Jupiter Hydro is currently planning on deploying their 1 MW unit at EMEC in late 2016.
In the 2nd quarter of 2016, Accumulated Ocean Energy Inc., a wave energy point absorber buoy, will establish an office in Cork, Ireland. A 1/4 scaled system will follow at the Galway Bay Smart Bay Wave Test Site. In 2015, Accumulated Ocean Energy Inc., partnered with T'Sou-ke Economic Development Limited to establish the T'Sou-ke Ocean Energy Limited Partnership (TOE LP), which is aimed at pursuing business opportunities located in the traditional territory of T'Sou-ke Nation. The first of the projects proposed by the newly formed TOE LP will be the installation of a test system off the shores of the T'Sou-ke traditional territory.
In 2016, Grey Island Energy is planning to deploy a 1/4 scale prototype of their surface attenuator, the SeaWEED device, in Scotland, in conjunction with their Scottish office and other potential UK partners.