RESEARCH & DEVELOPMENT

Within the OCEANERA-NET programme, TECNALIA is leading a consortium with partners from Spain, Portugal Ireland and UK to develop and demonstrate critical components for monitoring, control and electrical connection for ocean energy. Delivering reliable and cost-effective technologies will be paramount to the ultimate commercial success of Europe's ocean energy industry. The so-called RECODE project aims to give answer to this challenge by developing a set of industryenabling cost-effective components, specifically designed for reliable and sustainable delivery of ocean energy arrays. The project started in October 2015 and will run for three years.
TECNALIA, in collaboration with OCEANTEC, was awarded £87,271 by Wave Energy Scotland under its
first competitive open call for innovative Power Take- Off (PTO) systems for wave energy. The project SEÒLTA (Survivable and Efficient OLeo-hydraulic assisted Power Take-off) aims at producing a step change in the overall performance of PTO systems used for wave energy harvesting. Particularly, this project phase will characterise and assess the feasibility to wave energy of a novel hybrid PTO configuration that is directly inspired on those used in the automotive sector, which have achieved a significant reduction on fuel consumption (in the range of 30-50%).
In November 2015, a consortium led by TECNALIA in partnership with University of Edinburgh, University of Exeter, University College Cork, Instituto Superior Técnico, OCEANTEC, EVE, bimep, Global Maritime, Iberdrola and DNV, signed a contract with the European Commission under the Horizon 2020 programme to develop the project OPERA (Open Sea Operating Experience to Reduce Wave Energy Cost). OPERA will collect and share two years of open sea operating data of a floating oscillating water column wave energy converter. In addition, the project will be the first open sea experience for four cost-reducing innovations that will be advanced from TRL3-4 to TRL5. Together, these four innovations have a long-term cost reduction potential of over 50%. These are: an efficient turbine, latching and predictive control, a shared mooring system for wave energy similar to those that have reduced mooring costs in aquaculture, and an elastomeric mooring tether that reduces peak loads at the hullmooring connection and thus addresses one of the most pressing challenges for structural survivability of wave energy devices. Documenting and sharing this open sea experience will also induce a step-change in the knowledge of risk and uncertainties, costs and societal and environmental impacts of wave energy.
The consortium brings together world leaders in wave energy research, the IPR owners and most advanced teams to exploit each of these innovations.
TECNALIA is also leading the project ICERMAR, funded by the Basque Government, in collaboration with the University of the Basque Country and the Basque Centre for Applied Mathematics to coordinate research efforts in the field of marine renewable energy (ocean energy and offshore wind) and to increase the impact of this research into the local industry.
Abengoa Seapower continues the development of several activities in ocean energy, including R&D projects in wave and tidal energy, engineering for construction of marine energy projects, and the development of different tools mainly focused on grid and performance of marine energy devices.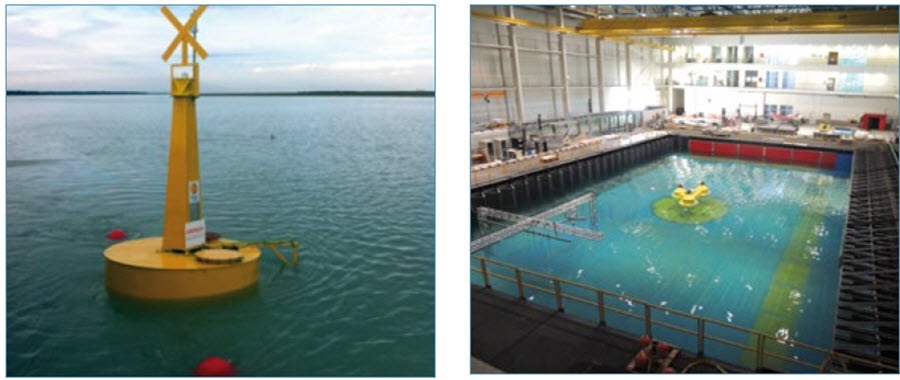 Ecoboya's prototoype during sea trials at the mouth of the Guadalquivir river. Tank testing campaign of the Undiplat's 1:20 scale prototype.

Furthermore, Abengoa Seapower's team has performed a successfully tank testing campaign on a 1:20 scale prototype (TRL 04) of its own wave energy device, Undiplat, based on a multiple oscillating water column (OWC) system. The 1:4 scale prototype (TRL 05) is expected to be tested off the north coast of Spain by the end of 2017 before the development of a full scale prototype.