Mooring solutions for large wave energy converters is a project funded by EUDP. The project is coordinated by Aalborg University and four large wave energy converters are being investigated under the project.
All Danish wave energy developers are participating in the Partnership for Wave Power; this partnership includes WaveStar, Floating Power Plant, Crestwing, Leancon, WaveDragon,Weptos, WavePlane, Joltec, Resenwave and KNSwing as illustrated in the figure below.
Denmark is involved in co-operate projects under EU and the standardisation work under IEC.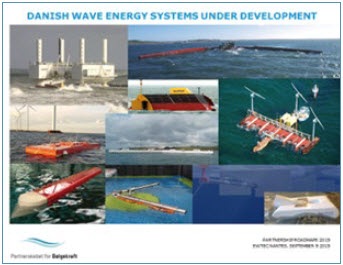 Denmark is involved in co-operate projects under EU and the standardisation work under IEC